At Knoldus, we offer a unique Internship program named 'Knoldus Internship Programme' to all engineering students. This program is based on the 'Earn while you learn' model which includes a wide exposure to a variety of technologies accompanied by a very competitive stipend. Under the framework of this program, our interns go through a learning journey of six months, and after successful completion of
their internships, they are felicitated with the 'Knoldus Graduate Engineer' Certificate.
The learning journey is bifurcated into two parts (a) Knoldus Induction Program (b) Knoldus Ultimate Program. Whereas 'Knoldus Induction Program' is of 3 weeks duration wherein our interns get an exposure to 'Campus to corporate' transition covering behaviours and cultural values, 'Knoldus Ultimate Program' is of five months duration wherein our interns gain in-depth exposure on understanding and
application of distinct technologies (Java, Scala, Rust, AI/ML, UI/UX, DevOps, etc.).
To make the learning journey more interesting and effective, buddies are appointed for all the interns. The buddies act as a lighthouse for the interns and they help them with their queries, understanding of the topics, project shadowing, and many more!
To help our interns assess their level of understanding and expertise, we have a unique assessment model called 'Licence to Operate (LTO)' at various stages of the learning journey.
"I feel proud and enriched"
Earn While You Learn
You will be offered a competitive stipend as per the industry standards
Exposure to variety of technologies
Become an expert with emerging technologies (Scala, Java, DevOps, AI/ ML, etc.)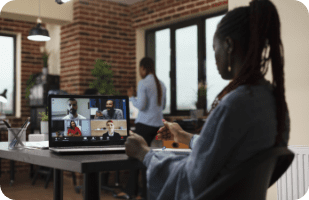 Exposure to work with clients
Work as a shadow engineer in project and take practical exposure on client projects
Buddy-up Program
Learn and work alongside a buddy who will coach you and guide you towards success
Global exposure as a Coach
Parcipate as a Coach in our weekly Knolx sessions. These sessions have global reach
Share your Strengths globally
Contribute to the Tech Community (Writing Blogs, Tech Hub Templates, OS Contribution, etc
Become a Learning Ambassador
Become a batch leader (rotational basis) and become the lighthouse and guide for your batch
Access to Google Classroom
You will have access to wide range of learning content around various emerging technologies
I really enjoyed & gained a lot of professional experience in the Knoldus internship program. The best thing is I got the best mentors & the leaders they guided me supremely that made me feel confident to perform in client projects. I also got multiple opportunities to lead my team as learning ambassadors & my project as team lead to showcase my skills & learning. For me it is the perfect cocktail of learning with new technologies, knowledge, skills, growth, opportunities and many more.
Rahul Soni
Software Consultant
Working in knoldus is one of the best things that can happen to me. During my internship, I learned lots of new things like how we work in a corporate sector, how we manage things properly, and the best thing - when I'm learning these things, all the mentors are so supportive. I think I must be very lucky to have such mentors. They are way too polite, polite, and supportive. Overall I groomed here in a very positive environment. Knoldus allowed us to choose our domain by ourselves. And in KUP we're having several sessions, assignments, and all. It's the best organization to start your career.
Vaanya Malik
Software Consultant
I have been working as a software consultant at Knoldus Software for 10 months. Being a college graduate, I had very little knowledge about the functioning of an organization. The main aim behind this was to give candidates a chance to pursue the field they like. We grew intellectually, but we also grew mentally as we were given training about company values, professional ways, and ethics. Overall these 10 months have been remarkable for me, and I can clearly see the difference knoldus has made in my life since I joined Knoldus as a college graduate.
Dipayan Pramanik
Software Consultant